Train Street, Dorchester, MA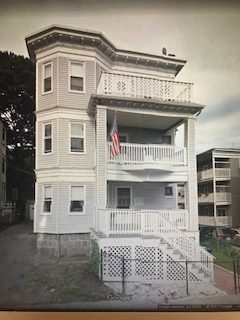 Train Street was a building that was in good shape, to begin with. The tenants left early on the top 2 floors, and the 1st-floor tenant left a month after the other two floors. The building sat on top of Popes Hill, and there were city views from the upper floors which were beautiful.
Something I learned from Annapolis was that people wanted parking, central air, and another bathroom. It wasn't in the original plans when we acquired the building but after hearing what people wanted we had the money to do the work and sustain a good profit. We added Mini split central air/heat pump systems and ½ baths with in unit laundry. We also built separate storage for each unit in the basement. A new public electric service was brought into the building. Front and rear halls were painted. Each unit received a fresh coat of paint, and hardwood floors were refinished. Cabinets on floors 1 and two were sprayed white. Train had an old garage in the back which needed to be demolished. Seems easy, right? Wrong! Apparently, you need approval from the City of Boston's landmark department when seeking to demolish structures to make sure they aren't a historic building. I laughed as who would think a garage is a historic building. It turned out we were safe. We had Coastal Excavation demo the garage, pave the driveway and install crushed stone on the expanded parking area. Paving the parking area would have led to additional drainage work, so we went the crushed stone route. The renovations took longer than expected due to the additions of the c/air and half baths. We hit the market in May which is not ideal. In summary, I think that we should have stuck to our original renovation plan so that we could have been on track with the spring market and moved the units sooner.
Amenities
2BR/2BR/2BR 1000 square foot condos with 1.5BA. Open living dining rooms with newer replacement windows, hardwood floors, and fresh paint. Central air, gas heat, oversized front and rear decks, laundry in unit, parking and city skyline views!
The Numbers
For more information about how this deal was structured, renovation numbers, profits and more, please contact me.