4th Street Place, South Boston, MA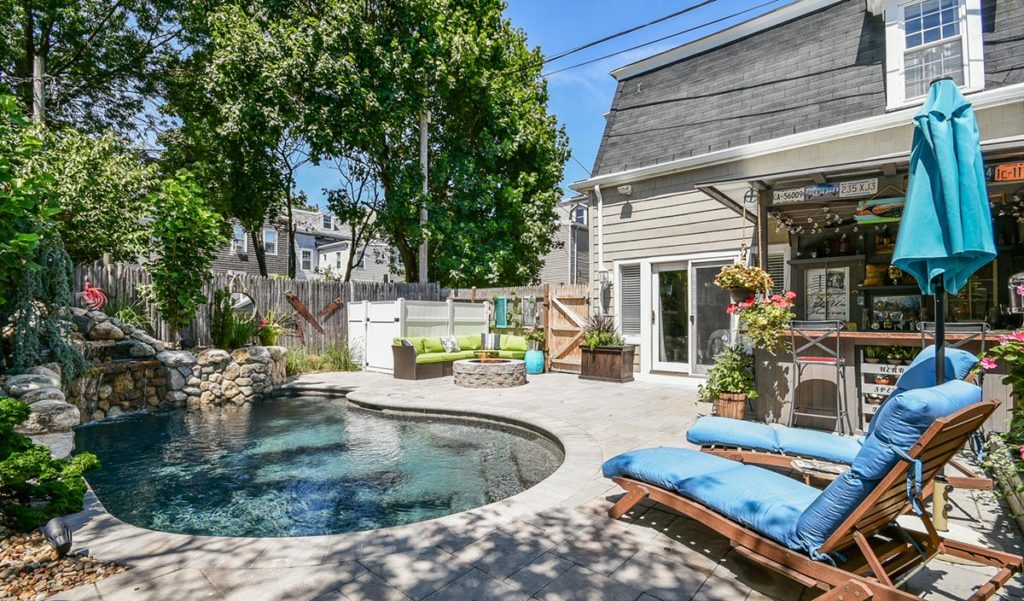 I always said I would stay in South Boston forever if I could find a single family home with a yard space that could be my playdough to design whatever my wildest dreams were. This all had to be within reason, of course, this is still the South Boston after all.
Playing on MLS when I am not "really" looking has led to almost all of my purchases directly or indirectly! I was out for Sunday football and came across this home set back from the street. I popped over to the open house and realized this was the blank canvas I was looking for! Soon my South Boston dream became a reality.
The Project
Inside the house, an unused chimney was removed between the kitchen and the living room to create a more open living concept. Removing the chimney led to having to reroute HVAC ductwork which proved to be no easy task. I added new granite counter tops along with stainless steel appliances. In the living room, I installed a gas fireplace with a stone surround wall: a floating mantle and floating shelves on each side accent the fireplace. A half bathroom was added to the main living area as well. Hardwood floors were sanded, stained and polyurethaned throughout.
You Can't Do That!
Then came the fun part, the outside! Everyone kept telling me that there was no way all the things I envisioned could fit in the space out back. I, of course, saw it differently. After calling five pool companies with no response Pools by Andrews finally called back and came out. They didn't think I was serious at first and said it would be a complicated job. It is a small space and there is absolutely no access to the backyard for excavation equipment.
Thanks to some creativity from the crew at Coastal Excavation they were able to hand dig the pool and take the earth out with buckets, literally! From beginning to end the process of the pool installation took four months. The project got held up by some setbacks that the pool company didn't see until it rained one day and we realized wires were too close to the pool line, so we had to reshape the whole pool!
The Finished Product
In the end, the centerpiece of the backyard was an in-ground gunite heated salt water pool with waterfall feature and lighting. The yard became the ultimate entertaining space with a hard plumbed gas fire pit and BBQ along with a stone pizza oven, and a fully stocked pub shed with a tv to watch all the games!
Amenities
3BR/1.5BA single family home with backyard oasis. Yard features in-ground heated salt water pool with waterfall feature. Gas fire pit, grill, propane pizza oven, pub shed with fridge and tv. Home features white cabinets, stainless steel appliances, granite countertops, hardwood floors, gas fireplace with stone surround, floating mantle and side shelves, gas heat/central air, and updated kitchens and baths
The Numbers
For more information about how this deal was structured, renovation numbers, profits and more, please contact me.