Ronan Street, Dorchester, MA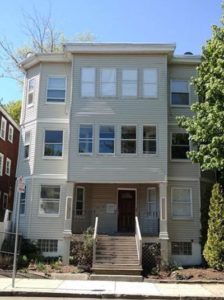 Sometimes when I look for a deal, it isn't always a multi-unit building. I find that condos can still make for a good deal with the right conditions. Conditions such as low owner occupancy rate, foreclosure or short sale make it unattractive to traditional buyers and their conventional financing. This sets up the opportunity for my team to come in with cash to finance the deal.
This middle floor unit of this Dorchester property was a foreclosure that had dropped over the last year 90k from the original list price, and it was in good shape!!!! We made a few cosmetic updates such as adding new appliances including a wine fridge, continuing the hardwood flooring to the kitchen and refinishing them throughout. We also installed a keyless entry in the unit, added a washer/dryer in the basement and gave the whole place a fresh coat of paint. Since it was a foreclosure banks don't like for it to be "flipped" quickly to another party. Therefore we rented it out for the time being and will put it on the market in Spring 2019.
Amenities
4BR/1.5BA condo with front and rear enclosed decks. Gas heat, central air, washer/dryer in basement, private deeded storage,
The Numbers
For more information about how this deal was structured, renovation numbers, profits and more, please contact me.