Hancock St, Dorchester, MA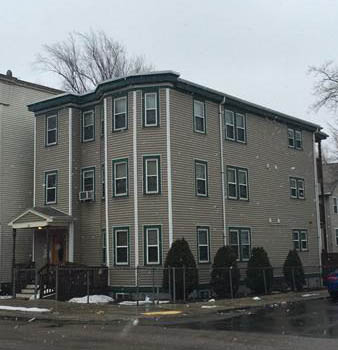 Right down the street from Dewolf Street I was alerted of a three family that was turnkey and with 100% occupancy. This building was built from the ground up in 2001. It needed very minimal work in terms of upkeep and maintenance.
There was coin operated washer and dryer in the basement. These machines are expensive to buy and maintain but they do help offset the cost of the water bill for the building which is great! We made the first floor into a four bedroom by taking the dining room and making it a bedroom. We did this with just a little bit of framing and sheetrock. A legal bedroom needs to be at least 70 square feet with a window and a closet per the City of Boston code. More bedrooms equals more rent, whether it is a subsidized tenant or a market rate tenant.
Another thing to look for in buildings is if the units are de-leaded or not. Massachusetts requires that owners disclose the presence of lead paint to potential tenants. Lead paint poses a threat to children under the age of 6 years old. The Lead notification form only applies to buildings built prior to 1976. If a building is de-leaded, it is a good marketing tool as it takes the potential burden of de-leading off the new owner/investor. The paved parking in the back has a tree right at the sidewalk line. There could be a potential curb cut, and if the tree was cut down, there is the potential to make the lot legal off-street parking, which increases the value of the property to a new owner/investor or condo conversion.
Amenities
3/3/3 multi-family home built in 2001 from the ground up. The potential for off street parking. Hardwood floors, stainless steel appliances, granite counter tops. Rubber roof and vinyl siding.
The Numbers
For more information about how this deal was structured, renovation numbers, profits and more, please contact me.